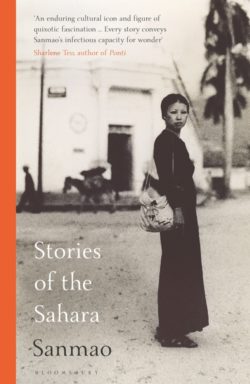 Sanmao (1943-1991) was the pen name of Chen Mao-ping (陳懋平). Born in China, she moved from Chongqing to Taiwan, Spain to Germany, the Canary Islands to Central America, and, for several years in the 1970s, to the Sahara. She wrote in a range of genres, including travel writing and novels. In 1976 she published the autobiographical collection Stories of the Sahara, which established her as 'a literary celebrity across Asia,' as Sharlene Teo says in the introduction to the English translation of the stories, by Mike Fu, which was published by Bloomsbury in 2019.
The author 'drew her pseudonym from the famous and beloved long-running Chinese comic strip character Sanmao, a wandering orphan so malnourished that he has only three hairs on his head. Explaining her rationale for adopting the moniker, Sanmao said: 'When I came across Sanmao, the orphan wandering in the streets, I realised there were a lot of poor children struggling to survive. When I began to write, I decided to faithfully record the lives of ordinary people whose voices go unheard. So I chose this name.' (From Stories of the Sahara, 'Introduction', by Sharlene Teo.)
The story we're featuring this month, to coincide with Sanmao's birthday on March 26th, is 'Hitchhikers', which provides a wonderful illustration of this recording of everyday lives, telling of Sanmao's encounters with a host of characters during her drives through the Sahara. We'd like to thank Bloomsbury and Mike Fu for giving us permission to reprint the story.
We stuffed the goat into the backseat. The old gentleman sat next to me. Meanwhile, the goat's head just happened to rest against my neck. Throughout the journey, the goat's strained breathing kept tickling my neck like crazy. I stepped on it so I could get these two to their scrappy roadside tent as soon as possible. When they were getting out, the old man grabbed my hands tightly, his toothless mouth babbling expressions of gratitude to me. He didn't let go for a long time. 
- From 'Hitchhikers'
You can read more about Stories of the Sahara in this review, from the Asian Review of Books, by Peter Gordon:
'The best travel-writing is sometimes—perhaps always—as much about the traveler as the places visited. Sanmao wears her heart on her sleeve; her enthusiasm for life is infectious; her youthful energy exciting and exhausting; her empathy for others, endearing; her righteous indignation at injustice, uplifting. The result is fresh and vibrant; Sanmao is a meticulous observer and affecting raconteur. '
And last year, on what would have been Sanmao's 77th birthday, her niece Jessica Chen wrote this moving essay for Words Without Borders, remembering her aunt:
Millions around the world knew her as Sanmao, the legendary writer who embraced her independence and sojourned far and wide. To me, she was simply Auntie—a family member, playmate, and someone who raised me in her own unique manner. (Jessica Chen, translated by Mike Fu).
Mike Fu is a Tokyo-based writer, translator and editor, and co-founder and editor of The Shanghai Literary Review, a transnational English language journal for arts and literature, and the assistant dean for global initiatives at Parsons School of Design. You can find him on Twitter here. And there's an interesting interview with him about his experiences of translating the book in the Columbia Journal:
 I feel that, broadly speaking, when it comes to Chinese books in translation, Western readers tend to be more interested in grand historical narratives from mainland Chinese writers, mostly men, or perhaps snapshots of hyper-contemporary Chinese urbanism, the like. I'd say that Sanmao represents a more marginal voice that doesn't really fit into any of those paradigms. As a female writer from Taiwan, she's an outlier in many ways. She defies easy categorization, and maybe this was part of the obstacle to her works getting translated earlier.
We're also delighted that Mike is one of the judges for our seventh Bai Meigui Translation Competition, which this year is focusing on fiction from Taiwan.
Finally, for more of an insight into Sanmao, and Mike's translation, last year Angus Stewart featured Stories of the Sahara on The Translated Chinese Fiction Podcast. You can listen to the episode here.