December 2018: Chan Ho-Kei 陳浩基
Chan Ho-Kei was raised in Hong Kong. He won the Mystery Writers of Taiwan Award for his short stories, and in 2011 he won the Soji Shimada Award, the biggest mystery award in the Chinese world. The Borrowed was published as 13.67 in Chinese in 2015, and was translated into English by Jeremy Tiang. It is published by Head of Zeus in the UK.
Our excerpt this month – in Chinese and in English translation – is taken from the second of the six novellas that make up The Borrowed.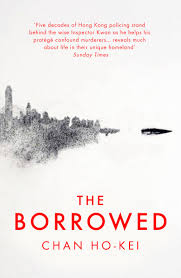 The Borrowed is the story of Kwan Chun-Dok, a Hong Kong police officer who rises from constable to senior superintendent over the span of forty-six years (1967-2013), becoming a legend in the force as he does so. Each of the stand-alone novellas deals with an important case in Kwan's career and taking place at a pivotal time in Hong Kong history: the riots of 1967, the conflict between the HK Police and the ICAC (Independent Commission Against Corruption) in 1977, the Handover in 1997, the SARS epidemic in 2003 and one last case in 2013, when Hong Kong is turning into a police state, a chillingly accurate portrait seemingly foreshadowing the Occupy Central movement.
There's an interesting review of the novel from The Asian Review of Books, by Melanie Ho:
'There's a richness to Chan's descriptions of Hong Kong and it's clear he is also looking at the social situation as as much as he is trying to write a crime novel….While each novella reads like a self-contained classic detective story, Chan is also trying to paint a bigger picture, with the story behind the story slowly revealed as the reader is taken back in time. He succeeds; with each subsequent novella, the reader understands how the past has influenced present decisions—for better or worse.'
And we're delighted that a short story by Chan Ho-Kei is our text for the 2018-19 Bai Meigui Translation Competition! Find out more about the competition, and the judging panel, here.