The Borrowed by Chan Ho-kei
The Borrowed by Chan Ho-kei
translated by Jeremy Tiang
(Head of Zeus, 2018)
Publisher's Blurb
From award-winning Hong Kong writer Chan Ho-kei, The Borrowed tells the story of Kwan Chun-dok, a Hong Kong detective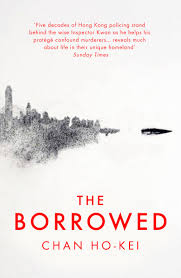 whose career spans fifty years of the territory's history. A deductive powerhouse, Kwan becomes a legend in the force, nicknamed "the Eye of Heaven" by his awe-struck colleagues. Divided into six sections told in reverse chronological order—each of which covers an important case in Kwan's career and takes place at a pivotal moment in Hong Kong history from the 1960s to the present day—The Borrowed follows Kwan from his experiences during the Leftist Riot in 1967, when a bombing plot threatens many lives; the conflict between the HK Police and ICAC (Independent Commission Against Corruption) in 1977; the Tiananmen Square Massacre in 1989 to the Handover in 1997; and the present day of 2013, when Kwan is called on to solve his final case, the murder of a local billionaire, while Hong Kong increasingly resembles a police state. Along the way we meet Communist rioters, ultra-violent gangsters, stallholders at the city's many covered markets, pop singers enmeshed in the high-stakes machinery of star-making, and a people always caught in the shifting balance of political power, whether in London or Beijing–all coalescing into a dynamic portrait of this fascinating city.
Tracing a broad historical arc, The Borrowed reveals just how closely everything is connected, how history always repeats itself, and how we have come full circle to repeat the political upheaval and societal unrest of the past. It is a gripping, brilliantly constructed novel from a talented new voice.
Reading Chinese Network Reviews
Reviewed by Catherine Shipley, 22/12/18
There are certain genres of novels that either attract enthusiasts, who hungrily rush from one book to the next, or readers who have stumbled across a book by accident and remain ambivalent towards the genre after reading it. I have always believed detective novels to be such a genre and myself to be the ambivalent (at best) reader. For this reason, I was skeptical about reading The Borrowed.
For the first page or two I rushed to assume that I could expect a familiar formula – there would be a crime, page after page of clues and red herrings, until finally, at the end of the book, the crime would be solved and I would attempt to be surprised. The novel would be peppered with lukewarm characters, with the exception of a brilliant, but otherwise nondescript, detective.
A page or two later I was taken aback. Something completely unexpected had happened. Where on earth was this story going to lead? I couldn't possibly imagine. It did not resemble my formula in the slightest.
The Borrowed is a selection of short stories which are related to each other. This offers the reader lots of variety and a chance to view Hong Kong police at work in different contexts.
Most stories feature Superintendent Kwan Chun-dok and his protégé, Sonny Lok. Kwan's crime-solving foresight is somewhat fantastical but that is beside the point. We are swept up by the fast-paced, action-packed narrative and barely have time to digest one event before the next adventure begins.
The Borrowed educated me as much as it entertained me. Although a work of fiction, it happens to provide an interesting insight into different periods of Hong Kong's history, focusing on the Hong Kong police force. Most readers will be aware of the territories handover to the Chinese government in 1997 and the troubles that followed. The Borrowed reminds us that things weren't so rosy under the British either. Talented Hong Kong police officers rising up through the ranks inevitably had to report to white British officers, to whom they had to communicate in English. No matter how long the British had spent in Hong Kong or how many Chinese employees they managed, they didn't learn Cantonese. They remained in a superior position, with no questions raised as to whether a local may be better placed to carry out their work.
One story describes a period of unrest under British rule, during which Hong Kongers could not avoid picking sides between the British and the mainland Chinese. Ultimately, neither side had Hong Kongese interests at heart. They appeared to be the only victims of the inescapable conflict.
As Chan Ho-Kei mentions in the Afterword, each reader will interpret the book in their own way. I was left with a feeling of frustration regarding the identity of Hong Kongese people. They were certainly not British, nor mainland Chinese. They definitely had a unique identity of their own but at every turn seemed to have been prevented from defining it.
I noticed that in addition to the locations mentioned in the novel, some of the crimes appeared to be based on reality. Reading this book, I couldn't help but draw conclusions about Hong Kong; its gangs, its police force and its politics. It was refreshing to be entertained but to be given something (crime-solving aside) to think about at the same time.
Reviewed by Catherine Shipley
Reviewed by Sean Barrs, 11/12/18
The Borrowed is an engaging book that chronicles the life of an extraordinary Hong-Kong based detective by piecing together six novellas, each reporting on an intriguing case, that slowly reveals exactly how talented he is.
By doing so, the book navigates its way through the history of Hong Kong policing. It details how it has changed and developed over the years, by going backwards in time we see how far things have come. And this is a real clever technique, not one I have seen before in fiction. The book begins with its protagonist on death's door, unable to work senior inspector Kwan Chun-dok can only consult junior detectives through the help of some rather advanced technology that allows him to communicate despite being in a coma. Regardless, he still proves a great help in the case. Not even death can stop him.
As the book goes back in time, we see the inspector in all his glory. He has the skill and intelligence to match either Sherlock Holmes or Hercule Poirot, earning the alias "The Eye of Heaven" because of his intuitive perceptiveness. Like the two great investigators, he is willing to look outside of the law to find his solution when necessary and he is always ahead of his quarry. The reader is not aware of all the facts, but Kwan Chun-dok has already pieced the clues together. What follows is a big reveal at the end of most of the sections. Each part is a little different and each full of mystery and intrigue, and they are all genuinely exciting to read about.
Other than exceling at characterising the detective, and filling the novellas with heaps of suspense, Chan Ho-Kei's time shifts also provide a social picture of China and the people that have lived there over the decades. This is more than just a thrilling detective drama. The story goes back by fifty years, chronicling the aftermath of communism, poverty and captures the brutality of vicious gangs like the triads. Kwan Chun-dok navigates his way through the social issues as he tries to solve his cases. The book does wonders at capturing the city, a city that is rich in its own culture. And the culture is varied. There is no unifying sense of identity, but a collection of smaller spaces that are linked to the history of China as whole but together help to create part of the present.
Chan Ho-Kei does not tell his story with flowery or glittery prose, he is certainly not a flashy writer, but what he does do is report exactly on the things his characters see, think and smell. It gives a sense of realness to the writing, a sense of realness to the city and the people that inhabit it. He also has natural ear for dialogue and all the clumsiness can come with real speech. Through his words, I feel like I have walked the streets and witnessed how alive and fast Hong Kong can be. And, for me, that's a real feat of writing. It is totally immersive. The Borrowed will appeal directly to those that like detective novels, and to those that want to learn a little bit more about China.
Reviewed by Sean Barrs