Stories of the Sahara, by Sanmao
Stories of the Sahara, by Sanmao
translated by Mike Fu
Bloomsbury, 2020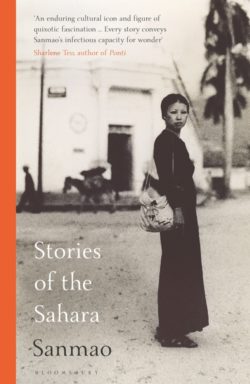 Publisher's Blurb
The book that has captivated millions of Chinese readers, translated into English for the very first time.
Sanmao: author, adventurer, pioneer. Born in China in 1943, she moved from Chongqing to Taiwan, Spain to Germany, the Canary Islands to Central America, and, for several years in the 1970s, to the Sahara.
Stories of the Sahara invites us into Sanmao's extraordinary life in the desert: her experiences of love and loss, freedom and peril, all told with a voice as spirited as it is timeless.
At a period when China was beginning to look beyond its borders, Sanmao fired the imagination of millions and inspired a new generation. With an introduction by Sharlene Teo, author of Ponti, this is an essential collection from one of the twentieth century's most iconic figures.
'Hypnotic . . . A record of one person's fierce refusal to follow a path laid down for her by the rest of the world' Tash Aw, Paris Review Books of the Year
Reading Chinese Network Reviews
Reviewed by Kevin McGeary, 29/5/21
In The Picture of Dorian Gray – one of the most quotable novels ever written – it is claimed that second-rate writers are much more interesting people than first-rate writers. First-rate ones write the poetry they dare not live. Second-rate ones live the poetry they're not quite good enough to write.
San Mao, perhaps the most quoted Chinese figure of the past century behind Chairman Mao and Lu Xun, was living proof that there are exceptions, top writers could live fascinating lives. In a culture where 'falling leaves' are expected to return to their roots, a nomadic lifestyle is a distant dream for most Chinese people, shackled by traditions of filial piety.
Her memoir Stories of the Sahara, a vivid account of intercultural experiences and harsh living conditions in North Africa during the dying days of Spanish colonialism, proved a sensation with China's exoticism-starved reading public after it was first published in Taiwan in 1976. San Mao's appeal is described in the foreword by Sharlene Teo as 'an exciting model of Asian femininity that centred personal agency, resourcefulness and reinvention'.
At one point in her musings, San Mao asks herself: 'All those hands that I've shaken, all those brilliant smiles exchanged, all those boring conversations, how could I just let a wind blow through my skirt and scatter these people into nothingness and indifference?' Fortunately, she did not let her amazing experiences be forgotten like (as she puts it) 'pebbles mixed up in the sand'.
Her adventures range from the amusing, to the historical, to the horrifying, to the nail-bitingly suspenseful.
Whereas in the English-speaking world, a common comedic trope is that of men clashing with their mothers-in-law, Chinese literature is awash with women who have difficult relationships with the woman who gave birth to their eventual husband. In the chapter 'My Great Mother-in-Law', San Mao prepares to meet the family of her Spanish husband Jose and steels herself for the bottomlessly sophisticated unspoken duels that might ensue with the women in his family.
The book also serves as an important historical document. The action takes place in El Aaiún at a time when tensions between Spanish occupiers and Sahrawi natives were high. Spanish colonialism is particularly embodied by the tragic drunken figure of Sergeant Salva who lost his brother and many comrades to Sahrawi guerrilla fighters.
Much of what she witnessed is vile by the sensibilities of the twenty-first century West, or 1970s China, including the forced marriages of pubescent and pre-pubescent girls. In all this, she was not a participant, but more than just an observer. A chapter titled 'The Child Bride' contains the following paragraph:
Abeidy came out with a bloodstained piece of white cloth later. His friends started shouting with lewd excitement. From their perspective, the whole point of the first night of marriage was to openly use force and violence to take a little girl's virginity. That the ceremony had to conclude in such a way was deplorable and ridiculous. I got up and strode out without saying goodbye to anyone.
The most unputdownable section is one in which Jose is drowning in a quarry and San Mao seeks help from three men who then attempt to rape her. This sadly and unwittingly foreshadows Jose's eventual death in a diving accident in 1979.
San Mao often carried a camera. At one point she reminisces: 'It was too bad that we didn't get a shot of the flamingos. But the beauty of that moment remains in my heart, something I will never in my life forget.' San Mao's life ended in 1991 in an apparent suicide, but many of the moments she put in words continue to live in millions of hearts.
The translation by Hubei-born Mike Fu flows as unaffectedly as the Chinese it was originally written in. It could give San Mao a well-earned reputation for one of the most extraordinary literary lives of the twentieth century.
Reviewed by Kevin McGeary
Reviewed by Tamara McCombe, 15/5/21
I have been studying Mandarin for nearly twenty years and reading Chinese fiction (both in the original and English translation) for fifteen, yet have never read anything like Sanmao's Stories of the Sahara. Many of the works picked by publishers for Occidental readers are hyper-dystopian, angry texts considering the societal overhauls China has experienced since Deng Xiaoping's 'Opening Up' reform period in the late 1980s and early 1990s. Often, female characters are portrayed as weak, subjugated victims and moral decline seeps into every corner. However, this work is a candid reflection by a strong-willed author of her experience of living in the Sahara during the 1970s as the region moved to independence from Spanish colonialization.
What will immediately strike regular readers of Chinese literature in translation is how fluid Mike Fu's English translation is; it reads as naturally as though the text was originally penned in English. Sometimes more literal translations from the Chinese original aid the reader to slide into oriental settings but Sanmao's poetic descriptions are better shared with readers by a translator with a penchant for lyrics – being Chinese, brought up in the US, and an academic at the Parsons School of Design, Fu's translation shows himself a master of both Chinese and English. His translation is sublime. Fu explains that the translation was a labour of love and homage to Chen Ping (Sanmao was her pen name), a result of meetings with her family and friends and international trips. This dedication to his heroine is a gift to the non-Chinese speaking world, introducing us to an infectiously life-loving soul. Although a well-known name within the Chinese diaspora, it is a shame she is only now more readily known to English audiences.
Stories was originally serialised for Taiwan's United Daily News. This is quite evident in that each chapter covers disparate topics from how to get on with your in-laws and make a cosy home from few resources, to spontaneous desert shenanigans and portraits of individual characters who strike Sanmao's intrigue. This could have leant the collected chapters an air of discontinuity; however, they reek more of an intimate epistolary account to a friend where she repeats introductions or descriptions in case the recipient has forgotten characters or setting from previous letters. Those familiar with Alistair Cooke's reporting will appreciate this author's skill for capturing the sentiment of a particular time. The reader feels all the more a confidante because Sanmao is at times unapologetically critical of the indigenous community's traditions and behaviours she perceives to be uncivilised or barbaric, as shared in the stories of child marriage or descriptions of personal hygiene habits.
On the one hand, Stories is an account of a particular place during an historic era. It is also a deeply personal act of self-reflection by the author. She contemplates what within her led her to what many would consider a desperate environment: "I want a taste of many lives…Only then would this journey be worthwhile. Although perhaps a life plain as porridge would never be an option for me." Her drifter lifestyle provides readers with a glimpse into a woman desperate to escape the expectations (and fear of disappointing) her parents' post-war generation, and a man she reluctantly marries although is evidently so connected to she risks her life for him.
In our current situations, where we are contemplating our futures as we cautiously consider coming out of enforced physical isolation, it is hard not to warm to Sanmao despite her strident opinions. Like us, she is human, one moment at peace and finding beauty in the stillness of her own company, yet at others deeply fearful of what lurks in the unknown. The word 'isolation' arises in every chapter, like a repeated refrain in a song. A beautiful but haunting note drifting through the reader's consciousness and presaging the author and her companion's tragic futures – all the more haunting given that neither had insight as to what lay before them.
Reviewed by Tamara McCombe