My Travels in Ding Yi, by Shi Tiesheng
translated by Alex Woodend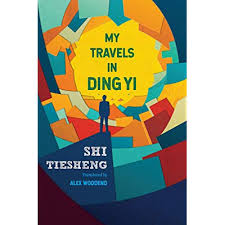 ACA Publishing Ltd, 2018
Publisher's Blurb
The flesh is a boundary, you and I are two cages.
Of all the brief lives I've inhabited, humans are definitely the most interesting. Poetry and painting, literature and drama, song and dance; there's nothing they can't do.
As I fell into this young creature named Ding Yi, a life filled with hardship, love and betrayal unfolded before me.
I'll try to make this account as entertaining as possible, but please bear with me – it was several lifetimes ago.
My Travels in Ding Yi is an epic novel told from the perspective of a nomadic spirit named Shi who inhabits a Chinese boy living in the second half of the 20th century. Shi describes coming of age during the Cultural Revolution in language that dips and soars from crude to lyrical, often in a single breath. Unpredictable and engrossing, this contemporary classic of Chinese fiction was first published in 2006 and is now available in English for the first time.
Reading Chinese Network Reviews
Reviewed by Barry Howard, 11/2/20
Ding Yi is a person living in the twentieth century. Travelling in him, so to speak, is an immortal spirit capable of inhabiting or reincarnating himself in living beings (both human and animal). That said, eight chapters throughout the book offer alternative explanations and interpretations of the title. The spirit ponders whether he experienced, imagined or dreamt his travels in Ding Yi; unsure if it was a past life or a future one.
The publisher says this book "describes coming of age during the Cultural Revolution". The same book has a detailed synopsis of Steven Soderbergh's 1989 film Sex, Lies and Videotape. It also has a spirit explaining that he first inhabited Adam and since then he's been searching for the spirit of Eve. Could be a Bible-inspired love story but a Buddhist angle made more sense to me. The spirit's longing for Eve fuels endless reincarnation and only by freeing self of desire can one find tranquillity? The question mark representing my struggle to make sense of what I read.
Shi Tiesheng took three years (2002-05) to write this book as his writing time was significantly restricted by ill health (kidney disease). That could explain the continually shifting frames of reference and contradictory timelines. It's also probably why the book contains 156, mainly short, chapters. The problem for me was that these breaks in, largely stream-of-consciousness, writing resulted in a multitude of rabbit holes with no wonderland as recompense.
Most of the time it felt like reading someone's private diary. A one-sided conversation that wandered, for example, from lust to suicide to Chinese naming conventions. More biographical than fictional. Ding Yi was both a Red Guard smashing up his family ornaments during the Cultural Revolution, and he also disturbed the spirit's dream time by watching porn and playing video games. Making me think that Shi Tiesheng was both the spirit and Ding Yi.
If not being asked for a review, I would not have finished this book. Part way through I stepped back and read Shi's "The Temple of Earth and I "<我与地坛>, an essay from 1993 about the author coming to terms with his life (paralysed from the waist down at the age of 21 from spinal damage caused by hard labour during the Cultural Revolution). Wheelchair-bound, Ditan Park (near his Beijing home) became a sanctuary for him. On an almost daily basis over a period of 15 years he observed the park changing through the seasons – the trees, the sunlight, the people, himself. It is a moving call to appreciate all that we have but too often take for granted or fail to notice.
In "The Temple of Earth and I", the author suggests that writing became his reason to live. He wrote to give meaning to his life and I guess that writing gave him a freedom that counter balanced the restrictions of his broken body. When asked by the China Daily newspaper why he wrote My Travels in Ding Yi he said "I want to find enough reasons to live on" (he was on long-term kidney dialysis). It seems that writing continued to be vital to his mental health, which kind of makes my thoughts as a reader irrelevant.
Reviewed by Barry Howard