The 5th Bai Meigui Translation Competition: Genre Fiction
NEW: We are delighted to announce the results of the 5th Bai Meigui Translation Competition!
(scroll down for details of the competition)
Winner: Bill Leverett
Runners-up: Stacy Mosher and Kristen Robinson
88 entries were received before the deadline, from all over the world, and we are hugely grateful to our judging panel, Jeremy Tiang (Chair), Tammy Ho Lai-ming and Natascha Bruce, for taking on the challenge. While we are unable to provide individual feedback, our panel has kindly provided some general comments below, about how they managed to select the three winners. All entries were judged anonymously.
The winning entry is due to be published in a special issue of Pathlight magazine, and both this translation and those of our runners-up are now available to read in our bookclub on our website. We'd like to thank Jeremy Tiang for overseeing the editorial process.
"The overall quality of the entries was very high, and this was a difficult competition to judge. Chan Ho-Kei's writing manages to be pithy, elegant, hilarious and startling all at once, and the structure of this story contained a couple of knife-edge turns that had to be skilfully navigated. Fortunately, many of our entrants were up to the task, coming up with translations that impressed and entertained us.
A large number of entries had patches of prize-worthy brilliance, such as wonderfully convincing dialogue and creative English solutions for phrases specific to Hong Kong, but maintaining a constant, believable voice for the first-person narrator often presented a challenge. In some versions, he spoke in regional slang that felt incongruous with the setting, whereas in others he sounded crude on one page yet almost Victorian on the next. By the final paragraphs, however, almost all translators had captured Chan's pacing and tone, producing an effect that felt just as chilling as the original
In the end, the three entries that stood out for us were those by Bill Leverett, Stacy Mosher and Kristen Robinson [names inserted by Leeds!]. We admired the irreverent energy and brio of Robinson's translation, the accuracy and lively dialogue of Mosher's, and the fluidity and consistency of Leverett's. All three of these translators responded to Chan Ho-Kei's story with sensitivity and creativity, honouring the original while producing a piece that was very much their own. It was a joy to see how different these three renditions were. Ultimately, we could only choose one winner, and we felt the translator who best captured the style and substance of the original, whilst also creating an English-language version that worked on its own terms, was Bill Leverett."
***
The competition is free to enter, and is open to anyone.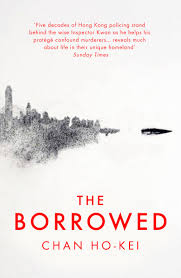 We are delighted to announce that our text for the 2018-19 competition is a short story by award-winning Hong Kong writer Chan Ho-Kei. Chan is our Author of the Month for December 2018, so you can read more about him on our Bookclub page, where you can also find an extract of his novel The Borrowed, translated into English by Jeremy Tiang. We'd like to thank Mr Chan for allowing us to use his work for this competition!
The Prize
The winning translation will be published in a special issue of Pathlight magazine, and we're grateful to Balestier Press for providing prizes for the winner and runners-up.
The Judges
We're honoured to have a panel of award-winning translators, authors and editors to judge the competition. Jeremy Tiang is an author, translator, and playwright. He translated Chan Ho-Kei's The Borrowed, and his own novel State of Emergency won the 2018 Singapore Literature Prize. He is also editor of Pathlight magazine. Tammy Ho Lai-Ming is a poet, author, and academic, and is founding co-editor of Hong Kong-based literary magazine Cha: An Asian Literary Journal. She has recently published her second poetry collection, as well as her first collection of short stories. Natasha Bruce is a translator, and was the joint winner of the first Bai Meigui Translation Competition in 2015. She has a number of book-length translations, and was awarded a 2017 PEN Presents East & Southeast Asia prize, and shortlisted for the 2018 Käpylä Translation Prize.
How To Enter

The competition deadline is midnight (GMT) on Monday 25th February 2019.
Please send your entries as an email (MSWord) attachment to writingchinese@leeds.ac.uk.
In the body of the email please include your name, contact details. We'd also be interested to know your current country of residence, what you consider to be your first language, and whether you have had any translations published previously. This information will NOT be available in any form to the judging panel, but is useful for our records, and planning purposes for future competitions. (The only information that you must include in order to submit, is your name/contact details).
Please do not include your name/any identifying information in the attachment.
The winner will be announced in Spring 2019.
Please note that we will not normally be able to provide feedback on entries, but thank you, in advance, for your submission.
Good luck!