Muse Publishing and Dorothy Tse; Frank Proctor Interview
Category

Date
One of Hong Kong's most exciting young writers - Dorothy Tse - will be joining us in Leeds this week for our Writing Chinese symposium. In advance of Dorothy's visit, we're very happy that her publisher Frank Proctor, of the innovative Muse Publishing, has agreed to answer our questions about Muse and share his thoughts about Snow and Shadow, Dorothy's first collection of short stories in English, translated by Nicky Harman.
Can you tell us a bit about Muse; how did you get started? 
I founded Muse in 2005. Before that, I had been a senior executive for Newsweek magazine, based in Hong Kong. My vision was to capitalize on Hong Kong's unique position at the crossroads of Chinese and Western traditions to creatively blend the two, starting with the launch of Muse magazine, which I envisioned as "Hong Kong's New Yorker" -- bilingual, with a blend of cultural reviews, narrative journalism, and literature. We published the monthly magazine until December 2010.
What was behind the decision to move from publishing a magazine to publishing books? 
Our original business plan was highly print-focused, and the digital transformation of media made it increasingly difficult to sustain a business model that would support a monthly magazine. At the same time, I felt that the digital era was opening up incredible new possibilities for book publishing, both digital and print. The internet has removed distribution bottlenecks, has made it possible for writers to tell stories in new ways, and has made global literature accessible to new audiences.
What are some of the challenges, and the rewards?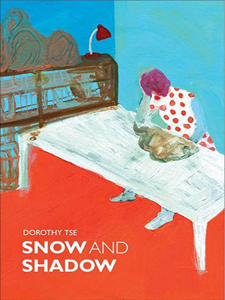 The reasons publishing attracted me in the first place are just as valid as ever: I am fascinated with the way writers articulate their ideas, and their ability to transform the way we see the world. Coming from magazine publishing, I needed to adapt to the long time horizon required to take a book project from the idea stage, through publication, and out to a wide readership. Yet I have found that the greatest reward is being able to immerse myself totally in working with one author for an extended period of time. I have the chance to get to know them and their ideas very deeply, and to understand their approach to writing. Then, I have the privilege of presenting their works to new audiences around the world.
How did you come across Dorothy's work, and what made you decide to publish Snow and Shadow?
I first became aware of Dorothy and her writing through her role as a founding editor of Hong Kong Kong's premier literary magazine, Fleurs des Lettres《字花》. Her writing appeared in its early issues, and she won some of the most prestigious literary awards in Taiwan and Hong Kong.
I was instantly jolted by the emotional intensity of Dorothy's writing, a feeling that stayed with me as I read and re-read her stories. Her style is intensely direct, kind of an "in your face" surrealism.
Her stories revolve around urgent topics like personal identity, family relationships, and sexual exploitation. She has a keen eye for the ridiculous and bizarre, and she is willing to plunge unflinchingly into the grotesque. But as a reader, I couldn't look away. The fantasies, dark humor, and shifting narratives that characterize Dorothy's writing make her stories truly absorbing.
Moreover, Dorothy is part of a compelling "new generation" of Hong Kong writers, who are seeking to define the meaning of individual identity in a society that has slipped its cultural moorings. Hong Kong writing provides a singular window onto Chinese literature, yet surprisingly little of it has found its way to Western readers and reviewers.
We were also very fortunate to be able to pair Dorothy with Nicky Harman, a talented, experienced translator who intuitively understood Dorothy's writing.
I loved the app for 'The Apartment Block'; is this something you're going to be doing more of? How do you think it changes our experience of reading and understanding stories?
I'm glad you like it!
I believe that digital media and the internet will play the central role in the way stories are told, and are already changing the way writers and readers interact. A publisher needs to be a digital pioneer to thrive. So I want to do at least one digital "experiment" with every book project. It is all about using different formats, both print and digital, to get the author's ideas across and reach new audiences.
Dorothy's story 'The Apartment Block' really lends itself to this kind of app. The story is a series of short scenes from a single mysterious apartment building, woven together over an uncertain time period. There are multiple possible explanations for how the events and people in the building might fit together; so the app lets users click on the doors of the apartment building in any order, to "create their own narrative." People really enjoy the app, and it reinforces the strange juxtaposition of time, place, and characters in the story.
What's next? Do you have any plans for the publication of more Hong Kong fiction in translation?
Our next book is The Kite Family, a collection of short stories by Hon Lai-chu, another award-winning Hong Kong author. It is scheduled for publication this year.
Thank you so much to Frank for answering our questions, and we're very much looking forward to reading more from Muse!