March 2023: Dorothy Tse 謝曉虹
Dorothy Tse is the author of several short story collections and has received the Hong Kong Book Prize, Hong Kong Biennial Award for Chinese Literature, and Taiwan's Unitas New Fiction Writers' Award. She is the co-founder of the literary journal Fleurs des Lettres, and her first book to appear in English, Snow and Shadow (translated by Nicky Harman), was longlisted for the Best Translated Book Award. Her novel Owlish, translated by Natascha Bruce, was released this month, from Fitzcarraldo Editions.
***

This month, we're delighted to be featuring an excerpt from the first chapter of Owlish. This is particularly exciting for us, as this was the text used in a Translation Masterclass given by Dorothy and Natascha in 2020, when they were in Leeds as our author and translator-in-residence. The masterclass was extremely enjoyable and very challenging, with some fantastic ideas exchanged, and everyone who attended has been looking forward to finding out about how some of the most tricky parts of the text were translated by Natascha! You can read the excerpt in both the original language, and in translation.
In the mountainous city of Nevers, there lives a professor of literature called Q. He has a dull marriage and a lacklustre career, but also a scrumptious collection of antique dolls locked away in his cupboard. And soon Q lands his crowning acquisition: a music box ballerina named Aliss who tantalizingly springs to life. Guided by his mysterious friend Owlish and inspired by an inexplicably familiar painting, Q embarks on an all-consuming love affair with Aliss, oblivious to the sinister forces encroaching on his city and the protests spreading across the university that have left his classrooms all but empty. Thrumming with secrets and shape-shifting geographies, Dorothy Tse's extraordinary debut novel is a boldly inventive exploration of life under repressive conditions. 
Owlish is already receiving glowing reviews, including this thoughtful piece by author and poet Kit Fan, in The Guardian:
It's tempting to call Owlish a fantasy, or an anti-fairytale. The book is not shy of drawing in references, including to Mephistopheles, Kant, the Brothers Grimm, Lewis Carroll, Kafka, Orwell and Tchaikovsky's Swan Lake. However, Tse's acerbic, freewheeling spirit is generically flirtatious, rather than genre-bound. She steals from the western canon with chutzpah and panache to create a subversive tale about perilous desire, high-rise bureaucracy and sophisticated corruption in a defenceless city under siege.
And for more insight into the translation of the novel and its many challenges, there's a fascinating interview with Natascha on the Sinophone Unrealities podcast, with Astrid Møller-Olsen.
***
Dorothy has kindly supported the work of our Centre from the very beginning, providing the text for our very first Translation Competition, in 2015 (which was won by Natascha Bruce!). We featured her again on the Bookclub in 2020, with her story 'Dark Things', translated by Natascha and published in Antipodean China: Reflections of Literary Exchange, Giramondo Publishing. Another story 'The Man Who Ate Everything' was featured in our special edition of Stand magazine in 2017.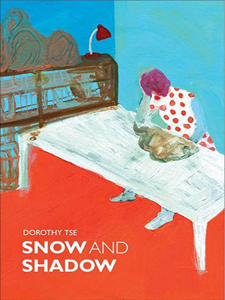 Acclaimed translator Nicky Harman, who was the first to translate Dorothy's work into English, says in her introduction to the short story collection Snow and Shadow (Muse, 2014), that, "not only do weird things happen, but they are juxtaposed in ways that confound all logical explanations. The results are alternately beguiling and deeply disturbing."
A number of the stories from the collection can be read online, including 'Woman Fish', which was published in The Guardian.
You can also find out more about Nicky and Natascha's experiences of translating her stories in this article for the Global Literature in Libraries Initiative.
Natascha Bruce was the joint winner of the inaugural Bai Meigui Translation Competition, in 2015, with a translation of a short story by Dorothy Tse, which was then published in Structo magazine. Since then she has gone on to work with acclaimed translator Nicky Harman, and forge a successful translation career. Her work includes short stories by Dorothy Tse, Lake Like a Mirror by Ho Sok Fong, Lonely Face by Yeng Pway Ngon and Mystery Train, by Can Xue. Her translation of Owlish, by Dorothy Tse, was awarded a 2021 PEN/Heim grant.